Welcome to the Pine Street Jazz Web Site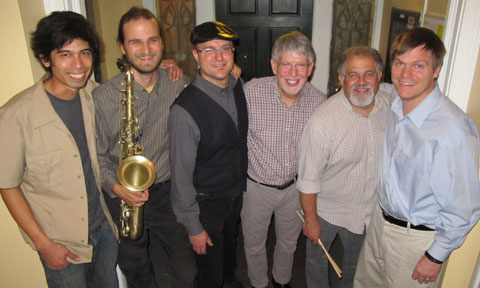 The band is (Left to Right) Peter Krag, Jake Whitesell, Carl Severance, George Voland, Nick Aloi, and Jeremy Hill
Introduction:
Pine Street Jazz is an instrumental sextet based in Burlington, Vermont. Formed in 1998, the group performs selections drawn from the mainstream of American jazz, featuring works by many of the genre's greatest composers, including Duke Ellington, Miles Davis, Thelonious Monk and Charles Mingus. The band's repertoire also includes swing, bebop, Latin, funk, blues and ballads, plus a number of original tunes composed by members of the band. With an ensemble sound often described as "smooth," "tight" and "swinging," PSJ prides itself in dusting off lesser-known tunes and presenting them in a new and different light.
For high resolution photos of the band, visit our Press and Promotional Materials page.
Join Our Mailing List:
Stay informed about Pine Street Jazz performances and updates by joining our mailing list. We respect your privacy and know that you probably loath unsolicited e-mails as much as we do, so rest assured that we won't share your address with anyone else. And it's simple to have your address removed in the future by simply clicking the link on the bottom of any message from us.
News:

Click here for old news.
Booking:
The music created by this talented ensemble is perfect for weddings, civil unions, parties, and corporate events. Let Pine Street Jazz pull from its extensive repertoire and work with you to provide the music that's appropriate for your event. The group has been praised for being both affordable and easy to work with. For rates and availability, please contact Carl Severance by e-mail ( ) or call 802-654-9220.
If you're interested in booking the group, it would be helpful for us if you first complete an Event Inquiry Form. This questionnaire serves to collect additional information to better understand the details of your event.
Personnel:
Pine Street Jazz is made up of seasoned musicians who between them have performed with most of the well-known musicians in Vermont and beyond.
Nick Aloi, drums, played regularly with the late "Big" Joe Burrell up until the end of 2004. Nick continues to perform with the Mark Lamphear Muskat Jazz Band, and has played drums for the Masefield/Stanziola group and the Vermont Jazz Ensemble.

Jeremy Hill, bass, is a music teacher at Waitsfield Elementary School and he performs with numerous jazz, folk, and World music ensembles in the area. Jeremy studied music at the University of New Hampshire and was an original member of Percy Hill, an indie jam band that recorded several albums and developed a large regional following.

Peter Krag, keyboard, is a native Vermonter who studied music with our old friend Tom Cleary and at the Vermont Youth Orchestra and the University of Vermont. He perfroms with a number of bands in the area including those led by Gabe Jerrett and Zach DuPont.

Carl Severance, guitar, is a former member of the Vermont Jazz Ensemble and the Jazz Hooligans, which he helped form as a music student at Johnson State College. Carl has accompanied several musical theater and live radio performances throughout Vermont. Carl also collaborates on an internationally acclaimed web site devoted to the late big band guitarist Freddie Green.

George Voland, valve trombone, is a longtime member of the Vermont Jazz Ensemble and has done much freelance jazz performance, with Lar Duggan, Fred Haas, Joe Capps, Tom Cleary, and other fine Vermont jazz musicians. Along with his wife Anne, George also operates Elliot House Bed & Breakfast, located in Shelburne, Vermont. In 2008, George released his first CD entitled Remember Beauty.

Jake Whitesell, tenor saxophone, alto saxophone, and flute, grew up in New York and graduated from Crane School of Music at SUNY Potsdam with a BM in music performance with a minor in jazz studies. Jake plays in several well-known groups including Kat Wright and the Indominable Soul Band.
The Singers' Circle
Since 2004, Pine Street Jazz has collaborated with a group of fine jazz vocalists collectively known as The Singers' Circle. Sharing the stage with these talented and diverse artists has been a great pleasure for the band and delightful bonus for audiences. Keep an eye out for these singers at future PSJ performances, or appearing with their own groups. They include Jody Albright, Amber deLaurentis, Allison Mann, Juliet McVicker, Taryn Noelle, and Susan Squier, Matt Wright, and the Blue Gardenias.
Upcoming Performances
To stay up to date with Pine Street Jazz performances and news, you are invited to join our mailing list.
For more information on upcoming performances, please join our e-mail list for occasional updates.
Listen:
The latest "demo" the band has is a live performance on Vermont Public Radio in April 2006. Click here to listen.
Below are short excerpts from a live concert that Pine Street Jazz performed in July 2003. Click on a song title below to download or listen to it. You'll need an MP3 player of some sort to play these. Please bear in mind that this was a "sit down" concert, and doesn't necessarily represent the type of music that the group would perform for a wedding, or other event. Pine Street Jazz has a diverse repertoire and can compile a program to suit your event and taste.
NOTE: There may be a few technical glitches on these samples, as sometimes happens during a live performance. In fact, we didn't even know we were being recorded at the time! Special thanks to the technical crew from Castleton State College that was running the sound system that evening.
| | |
| --- | --- |
| Title | File Size |
| | 320KB |
| | 562KB |
| But That Ain't This (Composed by Dan Skea) | 326KB |
| | 316KB |
| | 383KB |
| | 373KB |
| | 366KB |
| | 379KB |
| | 340KB |
| Love Your Enemies (Composed by George Voland) | 410KB |
| | 331KB |
| | 544KB |
| | 290KB |
| | 756KB |
| | 652KB |